Your vehicle as good as new!
Of all the frustrating things that come out of a car accident in North Hollywood, damage to your car ranks near the top.
Not only does it potentially make getting to work or your kids to school more difficult, but you may also have to deal with all different types of cosmetic or functional issues with the frame of your vehicle.
At In-N-Out Collision Center, your vehicle's care and restoration are our top priorities. Our North Hollywood body shop will make sure your vehicle is put back together or fixed to look as good as new. Stop by today for a free estimate and consultation. Or if you want to contact us here, we'll be happy to answer any questions you may have.
We promise you a LIFETIME WARRANTY on all our body work services.
Call and get started today.
Why Would Your Vehicle Need Body Work in North Hollywood?
There's a number of different reasons why your car would need our various services in North
Hollywood. Whether it be minor detailing work or a major overhaul, you can put your trust in our
team's experience and expertise. Here's a look at some of the main reasons our clients come to
our shop;
Accidents – Collisions with other vehicles or objects are common reasons for needing bodywork. North Hollywood, like many places, has its share of traffic accidents that can result in dents, scratches, and more significant damage to your vehicle's body.
Dings and dents – Minor incidents such as parking lot mishaps or small accidents can lead to dents and dings on your car's body. Many vehicle owners in North Hollywood seek bodywork to repair these imperfections and maintain their vehicle's appearance.
Weather damage – North Hollywood's climate, with its sunny days and occasional extreme weather events, can affect your vehicle. Hailstorms, falling branches, and wind-blown debris can cause damage to the body of your car.
Paint damage – Over time, exposure to the sun and environmental elements can cause paint to fade or chip. Vehicle owners in North Hollywood may seek bodywork to restore their car's paint job and protect it from further damage.
Customization – Some individuals in North Hollywood desire unique and customized looks for their vehicles. Bodywork can involve changing the shape, style, or color of a vehicle to match the owner's preferences.
Rust repair – Vehicles in North Hollywood can be susceptible to rust, especially if they are exposed to moisture. Bodywork may be required to remove rust and repair affected areas.
Restoration – Car enthusiasts in North Hollywood often undertake restoration projects to bring vintage or classic cars back to their original condition. This typically involves extensive bodywork to repair and refurbish the vehicle's body and frame.
Collision repairs – If your vehicle has been involved in a collision, it may require bodywork to restore its structural integrity and appearance. This can include repairing or replacing damaged panels, fenders, bumpers, and more.
As you can see, there's a number of reasons why your vehicle would need bodywork in North Hollywood. No matter what you need from us, we'll be happy to provide you with quick, comprehensive work to get your vehicle back on the road.
Additional Services:
You may think your car seats are beyond saving. In-N-Out Collision Center wants the chance to change your mind. We offer a free consultation where we can inform you of every possibility. You could watch as your current seats are restored and ultimately as smooth as shiny as when you first got your vehicle. You might also opt for a whole new fabric to modernize a car or truck you love.
What Services Do We Offer at Our North Hollywood Collision Center?
At In-N-Out Collision Center, our team of experienced technicians Our experienced team of technicians is dedicated to providing top-notch quality and customer satisfaction. Here are some of the key services we offer: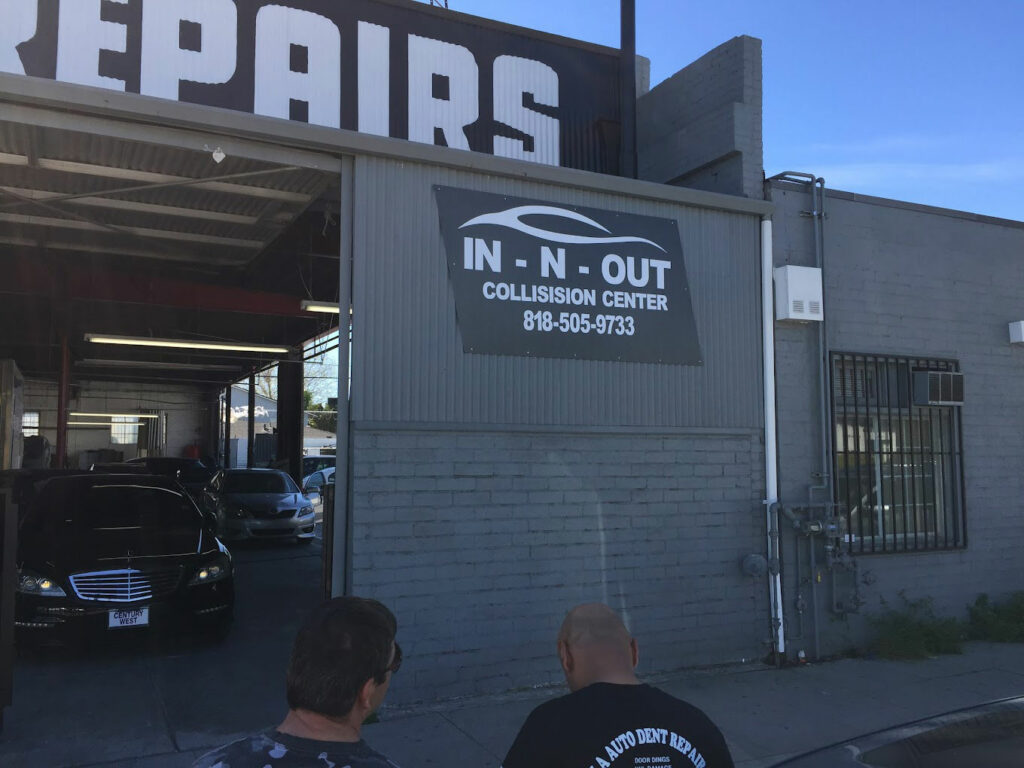 Frame straightening – This service fixes the main structure of a car if it's bent or twisted due to an accident. It makes sure the car's frame is straight and strong again.
Body painting – This is when the outer surface of a car gets a fresh coat of paint. It's like giving your car a new look by changing its color or refreshing its existing one.
Custom paint jobs – This is a special kind of body painting where you can choose unique and personalized colors and designs for your car. It's like giving your car its own signature style.
Paintless dent removal – When your car gets dented, but the paint isn't chipped, this method is used to gently push the dent out from the inside without needing to repaint. It's like magic for fixing dents.
Fiberglass repair – If your car has parts made of fiberglass (a strong but lightweight material) and they get damaged, this service repairs them. Think of it like fixing a broken piece of plastic on your car.
Upholstery – This is about sprucing up the inside of your car. It involves repairing or replacing the seats, carpets, and other soft materials inside your vehicle. It's like giving your car's interior a makeover.
We take a great deal of pride in our approach to your vehicle's repair and continued use. We know how important your vehicle is to you and your family, and we'll make sure that your vehicle will be back in working order as soon as possible.
What's Our Repair Process in North Hollywood?
Depending on what you need, we can customize our process to fit your needs. Here's a quick look of our typical repair process:
Initial assessment – When you bring your vehicle to our shop in North Hollywood, the first step is an initial assessment. A technician will examine the vehicle to determine the extent of the damage or the nature of the repair needed.
Estimate – Based on the assessment, our shop will provide you with an estimate for the cost of the repairs. This estimate includes the cost of parts and labor required to fix your vehicle.
Insurance Claims (if applicable) – If your vehicle's repairs are covered by insurance, our repair shop can help you with the claims process. They may work directly with your insurance company to ensure a smooth experience.
Ordering parts – Once you approve the estimate, we'll order any necessary parts or materials needed for the repair. In some cases, they may have the required parts in stock.
Repair work – The repair process begins, with our technicians working on your vehicle. This can involve various tasks depending on the nature of the repair, such as bodywork, mechanical repairs, or painting.
Quality control – After the repairs are completed, a quality control check is performed to ensure that all work has been done correctly, and your vehicle meets safety and quality standards.
Painting (if applicable) – If your vehicle underwent painting as part of the repair, this step involves our method of color matching and applying paint to achieve a seamless finish.
Assembly – Any disassembled parts of your vehicle are reassembled during this stage. This includes putting together components such as panels, lights, and trim pieces.
Final inspection – Once repairs are completed, we'll do a final inspection to verify that all repairs have been completed satisfactorily and that your vehicle is in proper working order.
Test drive – In many cases, we'll perform a test drive to make sure that your vehicle is functioning correctly and that there are no unusual noises, vibrations, or handling issues.
At In-N-Out Collision Center, our North Hollywood team is ready to help you when your vehicle needs repaired.
Contact us today for your free assessment or stop in for a free estimate.