All Your Upholsery Repair Needs
In-N-Out Collision Center restores the upholstery on car seats after a Los Angeles accident.
We also help car owners who are tired of their current upholstery make a positive change in fabric and color. Our North Hollywood body shop offers a quick and free consultation and estimate for any project in the Los Angeles area. You don't need an appointment to stop in, but you can also contact us to discuss any problem with your vehicle interior.
We promise you a LIFETIME WARRANTY on all our body work services.
Call and get started today.
Car Upholstery Restoration and Replacement in Los Angeles
A major accident on a Los Angeles Boulevard may have caused your car or SUV upholstery to rip or split. It may be all that L.A. sunshine that leaves your car seats and consoles cracked or faded. Aging can also leave your car seats looking decades old.
Our skilled upholstery technicians are ready to breathe new life into your sports car, your motorcycle, or into a well-worn family mini-van. We work with all materials including:
Leather
Vinyl
Plastic
Fabric
You may think your car seats are beyond saving. In-N-Out Collision Center wants the chance to change your mind. We offer a free consultation where we can inform you of every possibility. You could watch as your current seats are restored and ultimately as smooth as shiny as when you first got your vehicle. You might also opt for a whole new fabric to modernize a car or truck you love.
Auto Upholstery Services in North Hollywood
Worn-out seats aren't always ready for the junkyard. Our auto body work experts have seen seats and interiors at their worst and restored them to looking better than new.
A new fabric cover altogether may be the easiest solution, but we want to partner with you on your restoration project. We are good listeners and are ready to make your vision for the interior of your vehicle a reality.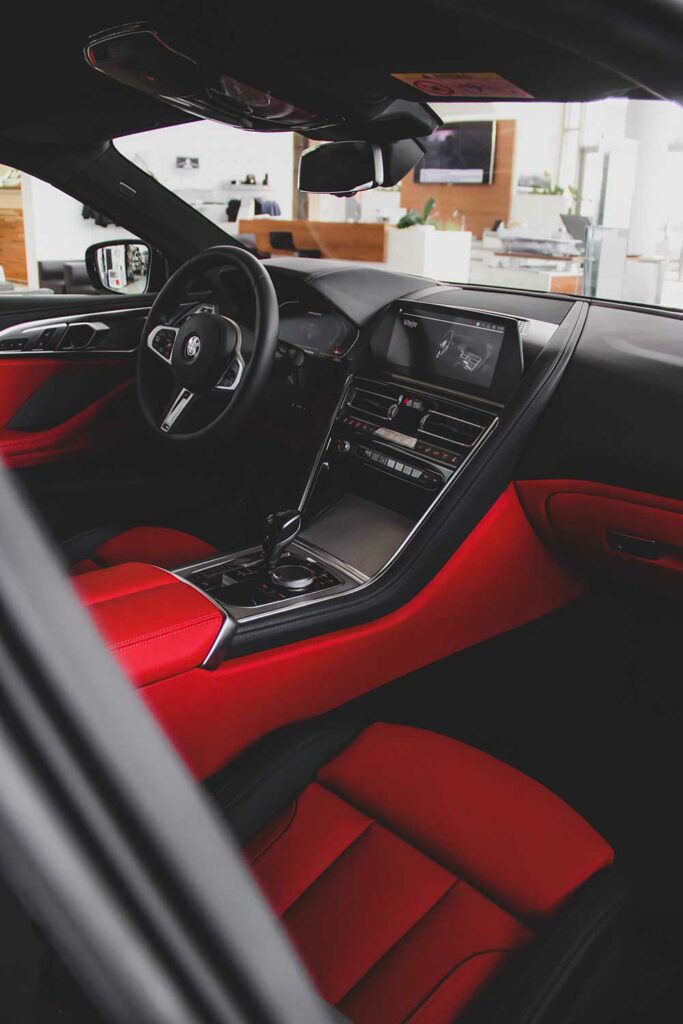 These are just a few of the services we offer:
Replacing entire car seats
Seat restoration
Seat hole and crack patching
Seat restoration and cleaning, stain removal
Motorcycle seat repair and replacement
Console and vinyl and leather armrest repairs
Headrest repairs
Bench restoration in RVs and Vans
Steering wheel and door panel scratches and wear repairs
The Advantage of Trusting Your Car Body to In-N-Out Collision Center
In-N-Out Collision Center is proud of our 25 years of service to our Hollywood and Los Angeles customers. Our fully-trained technicians use their skills and experience to make sure your car is restored to factory condition.
We also offer affordable prices with no hidden fees. You'll know what you're paying for before you hand over your keys.
We want our clients happy with the restored look of their cars, motorcycles, and other prized vehicles. Your vehicle doesn't pass inspection until you are happy with the results.
Contact In-And-Out Collision Center of North Hollywood
If you are curious about what a refresh on your car's interior can do for its value and your pride as you drive it around, stop in anytime for a quick consultation. In-N-Out Collision Center is located in North Hollywood at 11724 Victory Blvd. Our repair estimates take around 10-20 minutes on average. You can also get a quick online estimate by uploading photos and your contact information.
Please contact us and let us know how we can get your car looking like new again. We also handle fiberglass repair, dent removal, custom paint jobs, car wraps, and so much more. Reach out to us for any outside or interior body repair project, big or small.