Car Glass Repair in North Hollywood
You may take it for granted, but the glass in your windows and windshield are very important aspects of your vehicle.
First and foremost, they allow you to see clearly, which makes it much easier to drive and avoid potential hazards and accidents. That said, these components of your vehicle are also fragile, and sometimes the smallest force can cause you to need glass repair.
At In-N-Out Collision Repair, our North Hollywood shop has the tools and resources you need if your car needs glass repair. We're dedicated to using only top-notch materials and providing attention to every vehicle we work on. Stop in today for a free estimate on any window or bodywork, or contact us here to schedule an appointment and explore our extensive range of services.
Why Would You Need Car Glass Repair in North Hollywood?
Not surprisingly, there's a variety of reasons your car could need glass repaired in North Hollywood.
Cracks and chips – Small cracks or chips in your car's windshield or windows can impair your visibility and compromise safety. Repairing them promptly prevents them from spreading and becoming more extensive issues.
Safety concerns – A damaged or compromised glass can weaken the structural integrity of your vehicle. In the event of an accident, the glass needs to provide optimal support and protection.
Legal compliance – Many areas have laws regulating the condition of car glass. Having a cracked windshield, for example, might result in legal issues or fines.
Visual appeal – Cracked or chipped glass is not just a safety concern; it can also affect the overall appearance of your vehicle. Timely repair maintains the aesthetic value of your car.
Insurance requirements – Some insurance policies may cover glass repair or replacement. Failing to address glass damage could result in losing out on potential insurance claims.
Again, the glass portions of your car are extremely important for its overall function and your ability to stay safe. That's why you should wait if you notice a crack or chip. Bringing your car into our North Hollywood shop can fix any issue your glass may have.
How Do We Approach Car Glass Repair in North Hollywood?
We like to think our approach to your car sets us apart from other body shops you'll find. That said, we approach every car based on your specific needs. When it comes to glass repair, here's how the process usually works: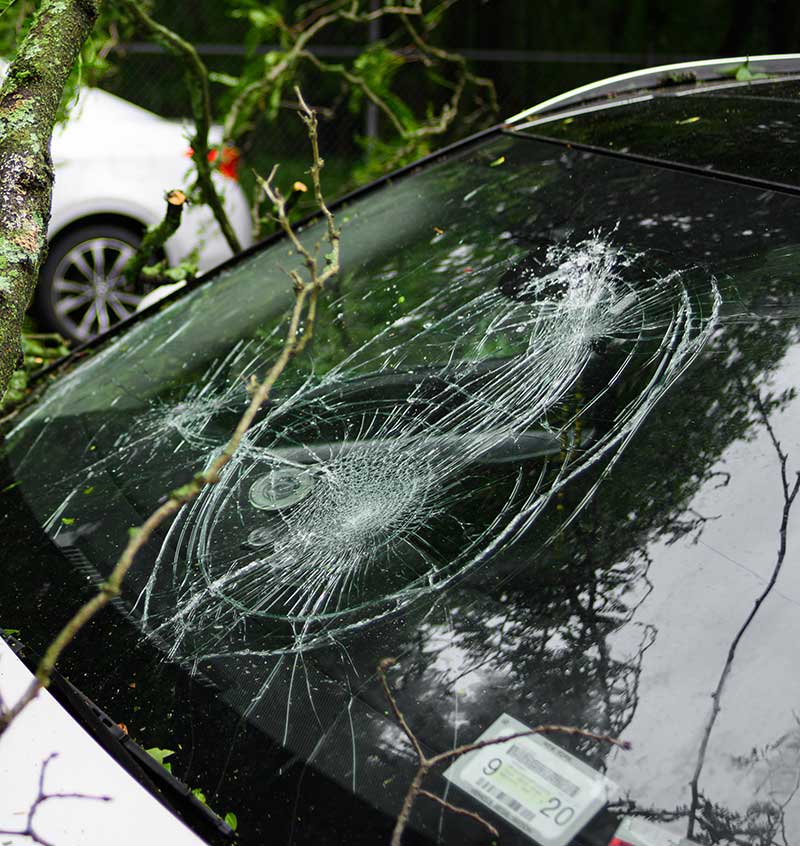 Assessment – We begin by thoroughly assessing the damage to the car's glass. From there, we determine whether it's a small chip or crack or if the entire windshield or other windows need replacement.
Glass repair or replacement – Depending on the extent of the damage, we'll decide whether a repair or replacement is necessary. Smaller chips or cracks can often be repaired, but if the damage is too significant, replacement might be the better option.
Qualified technicians – At our shop, you have skilled technicians who are experienced in auto glass repair and replacement. We're familiar with the specific requirements for different types of car glass.
Quality materials – We use only high-quality glass materials and adhesives for the repair or replacement. This ensures the safety and longevity of your repair.
Customer communication – We'll keep you informed about the process and estimated time for the repair. We believe transparency and good communication are essential for customer satisfaction.
Insurance – We also assist you with insurance claims if applicable. Many car insurance policies cover glass repairs or replacements, and your shop can help facilitate the claim.
Quality control – After the repair or replacement is done, we conduct a thorough quality check to ensure the glass is properly installed and sealed.
Documentation – We make sure to maintain records of the repair or replacement for your records and reference.
Customer satisfaction – Our top priority is making sure you're satisfied with the service provided. We'll address any concerns or issues promptly to maintain our good reputation.
See Things Clearly With In-N-Out Collision Center
When you need your car's glass repaired, look no further than our team at In-N-Out Collision Center. We'll be there to explain what you need and keep you updated as your situation progresses. For a free estimate, contact us today or stop in at our North Hollywood shop.