In-N-Out Collision Center can restore the fiberglass parts on your car back to showroom appearance.
We can help fix dings or major damage in fiberglass car bumpers. We can also help classic car owners find new fiberglass parts and perform a seamless installation. Our North Hollywood body shop offers a quick and free consultation and estimate for any project in the Los Angeles area. You don't need an appointment to stop in, but you can also contact us to discuss any problem with your vehicle.
We promise you a LIFETIME WARRANTY on all our body work services.
Call and get started today.
Why Would Your Vehicle's Frame Need Straightening in North Hollywood?
Being in a car accident–usually involving one or more collisions–is just one of the reasons your vehicle's frame would need repair and straightening. In North Hollywood, as in other places, there's a variety of different ways your vehicle's frame could be damaged and need straightening. Some of the most common include:
Poor road conditions – If you frequently drive on rough terrain or poor roadways in North Hollywood's surrounding areas, your vehicle's frame can undergo stress and misalignment over time.
Wear and tear – Over time, continuous use, and exposure to various road conditions, a vehicle's frame can experience wear and tear, leading to alignment issues. This is not specific to North Hollywood but can happen anywhere.
Structural damage – Sometimes, structural damage occurs due to rust or corrosion. North Hollywood's location and weather, with its heat and high humidity, can sometimes cause frame issues with your vehicle.
Defective parts or manufacturing – In some cases, vehicles may have manufacturing defects that result in frame misalignment. This is not location-specific but can affect cars in any area.
Whatever frame issues your vehicle is having, our North Hollywood shop is well-equipped with the parts and staff to handle anything you may need. With our tried-and-true method, we have helped our customers get back on the road with confidence.
Fast and Affordable Fiberglass Repairs in Los Angeles
Fiberglass is a type of plastic that's woven with glass fibers to make it stronger. It's not as strong or durable as metal, but it doesn't rust and it can be repaired, unlike plastic.
Many classic vehicles such as the Chevrolet Corvette C1 and the Ferrari 308 GTB have bodies made almost exclusively of fiberglass. Fiberglass also shows up in some bumpers on current models of vehicles. It's also used in replacement parts for cars damaged in accidents. Many models of motorcycles also include fiberglass parts.
In-N-Out Collision Center has an experienced crew ready to take on any fiberglass repair or panel replacement project you can think up. If your car, truck, or SUV suffered damage in an accident we can help you find the right fiberglass pieces to restore your vehicle. We can fix other types of mishaps affecting fiberglass integrity.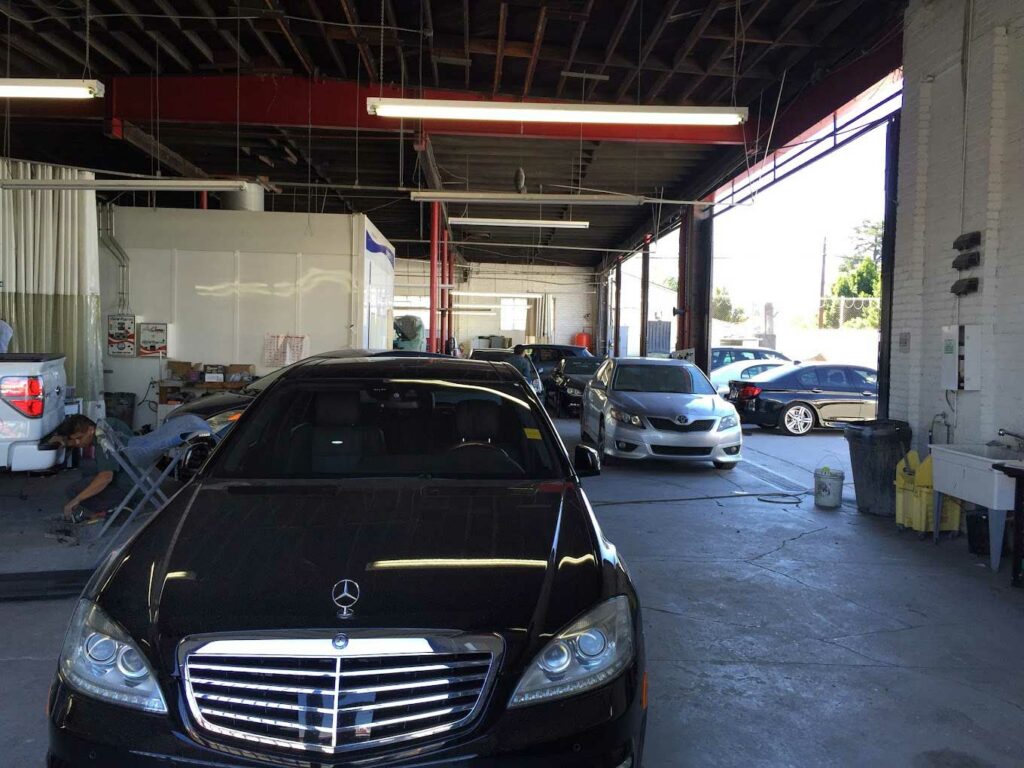 Fiberglass Hazards on Los Angeles Roads
We are able to repair the cracks and holes in your fiberglass stemming from a car accident or any other unfortunate event. When major damage is involved, we get to work finding a replacement body part. Our skilled technicians then make sure it fits perfectly on your car.
These are just a few of the reasons you may need to rush over to see In-N-Out's Fiberglass artists:
Fender benders
Rear-end accidents on boulevards
Sideswipes on freeways
Head-on collisions
T-bone accidents
Intersection collisions
Damage in parking lots
Weather damage
Pebbles and stones launched by the tires of other cars
Chucks of crumbling road surface
Debris in roads
Tree damage in parking lots
Grocery carts
Vandals
The Advantage of Trusting Your Car Body to In-N-Out Collision Center
In-N-Out Collision Center is proud of our 25 years of service to our Hollywood and Los Angeles customers. Our fully-trained technicians use their skills and experience to make sure your car is restored with quality parts and labor. We handle these and other fiberglass projects: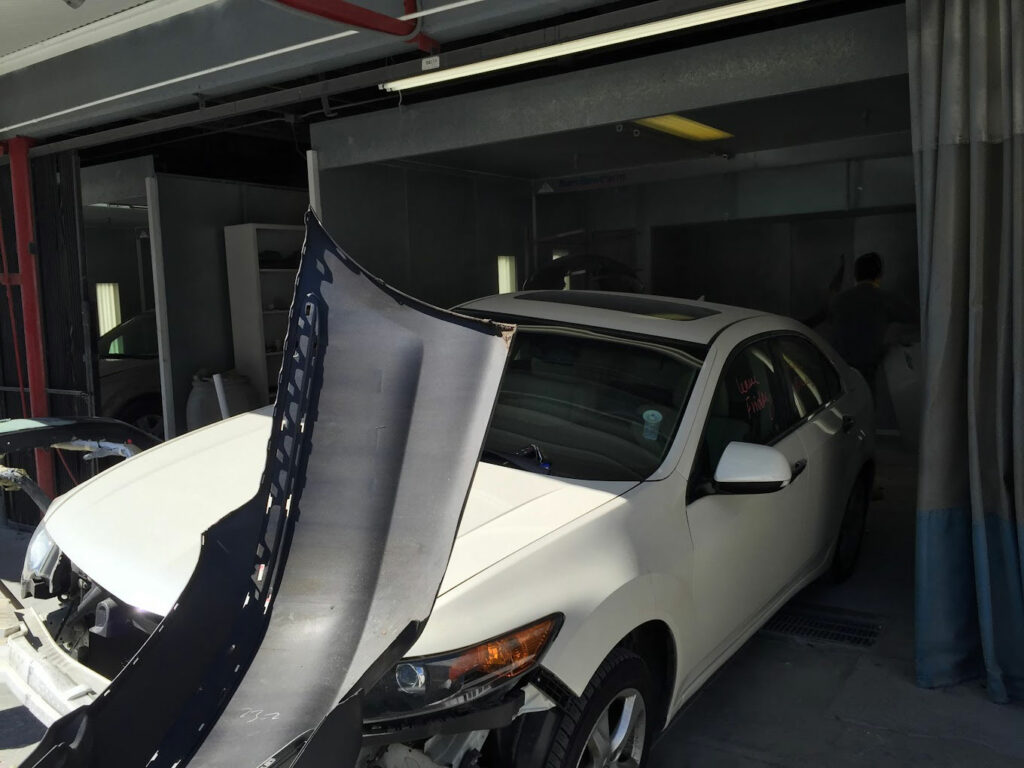 Filling in Holes
Filling in Cracks
Applying Primer
Re-painting
Cosmetic issues
Structural fiberglass repair
We also offer affordable and transparent pricing. You'll know what you are paying for and what your car should look like after we are done. We want our clients to leave happy after seeing their cars restored back to their former glory. Your vehicle doesn't pass inspection until you approve the results.
Contact In-And-Out Collision Center for North Hollywood Paintless Dent Removal
If you find yourself in need of fiberglass repair in North Hollywood or anywhere in Los Angeles, please contact our body shop. In-N-Out Collision Center is located in North Hollywood at 11724 Victory Blvd. Our repair estimates take around 10-20 minutes on average. You can also get a quick online estimate by uploading photos and your contact information.
Please contact us and let us know how we can get your car looking like new again. We also handle paintless dent repair, custom paint jobs, major frame repairs, and so much more. Reach out to us for any body repair project, big or small.