One of the best ways to get a unique look for your vehicle is to get a custom paint job.
 Really, there's no better way to show off your style and make your car stand out among the pack. But beyond the visual appeal, our custom paint jobs at In-N-Out Collision Center can give your vehicle a sleek and modern appearance, a retro or vintage vibe, or something entirely unique.
We take pride in our custom paint jobs, which involves our meticulous attention to detail. Our skilled painters pay close attention to surface preparation, priming, and application techniques, resulting in a flawless finish that is superior to a factory paint job.
To get a free estimate, contact us here or stop by our North Hollywood shop today. We'll be happy to let you know more about our services.
We promise you a LIFETIME WARRANTY on all our painting services.
Call and get started today.
Does My Vehicle Need a Custom Paint Job?
The answer here is entirely up to you, but it's something our experienced team can certainly help you with. No matter what kind of vehicle you have, whether it be an everyday vehicle or a classic car, a custom paint job can really beneficial:
Personalization – If you want your vehicle to reflect your individual style and preferences, a custom paint job can be a great choice. It allows you to choose unique colors, designs, and finishes that make your car stand out and truly represent your personality.
Enhance your look – If you're looking to improve the appearance of your vehicle or if it has existing paint damage or imperfections, a custom paint job can help. It can hide flaws, provide a fresh look, and enhance the overall aesthetics of your car.
Resale value – Custom paint jobs can potentially increase the resale value of your vehicle if done well. However, it's essential to consider the preferences of potential buyers. While some may appreciate the uniqueness of a custom paint job, others may prefer a more traditional look.
Restoration – If you have an older vehicle that needs restoration or repair, a custom paint job can be an effective way to bring it back to life. It can cover rust spots, dents, and other imperfections while giving the vehicle a renewed appearance.
Brand representation – If you're a business owner, a custom paint job on company vehicles can help reinforce your brand identity and increase brand recognition. Custom logos, colors, and branding elements can make your vehicles more memorable.
Protection – Some of our custom paint jobs include high-quality clear coats and sealants that offer superior protection to your vehicle's exterior. This protection can help shield the paint from environmental damage and extend its lifespan.
Emotional connection – Many car enthusiasts and collectors develop a deep emotional connection to their vehicles. If you have a strong attachment to your car and want to make it truly unique, a custom paint job can be a way to strengthen that connection.
What Kind of Custom Paint Jobs Do We Do in North Hollywood?
Again, our team of experienced professionals and design specialists can give your vehicle any type of custom paint job you want. Over the years, we've helped numerous clients bring their vision for their vehicle to life. Here are some of our most popular custom paint jobs: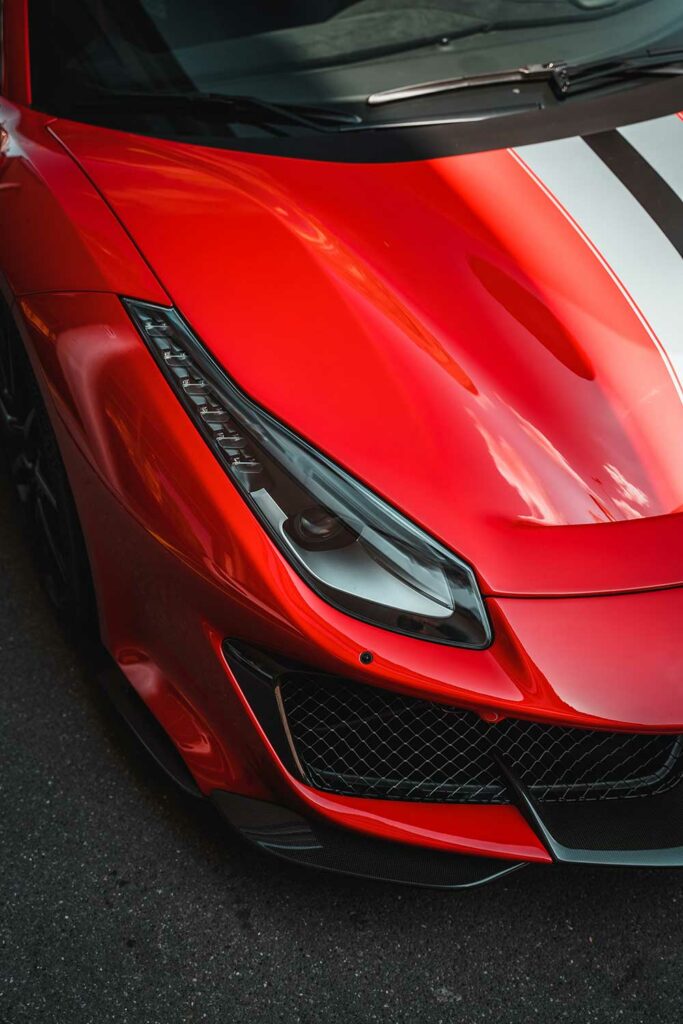 Complete color change – If you want to completely change the color of your vehicle, a complete color change custom paint job is an option. You can choose from an extensive palette of colors to give your car a fresh and unique appearance.
Custom graphics and designs – Our specialists have extensive experience in creating intricate graphics and designs on vehicles. Whether you want racing stripes, flames, tribal patterns, or other artistic elements, skilled painters can bring your vision to life.
Airbrushing – We can use an airbrushing technique to create highly detailed and realistic images on the vehicle's surface. It's often used for creating portraits, landscapes, or fantasy themes on cars, motorcycles, and other vehicles.
Pearlescent and metallic finishes – These finishes add depth and dimension to your vehicle's paint job. Pearlescent and metallic paints can change in appearance depending on the angle and lighting, creating a dynamic and eye-catching effect.
Matte and satin finishes – Matte and satin finishes have gained popularity for their unique and non-reflective appearance. These finishes can give your vehicle a sleek and modern look, and they can be customized with various colors.
Customized decals and wraps – We also offer vinyl decals and wraps that can be applied to your vehicle's exterior. These can include branding elements, logos, or unique designs. Wraps are a great option if you want a change that's less permanent than traditional paint.
Two-tone paint jobs – Two-tone paint jobs involve using two different colors on the vehicle, often with a distinctive dividing line or design. This style can create a classic and sophisticated appearance.
Restoration paint jobs – If you have a classic or vintage vehicle that needs restoration, we can provide paint jobs that restore the car to its original glory. This can include matching historical colors and finishes.
Theme-based paint jobs – Some of our car enthusiasts want a custom paint job from their favorite TV show, movie, or sports team. We make sure every color and detail is a spot-on match for you.
Custom color matching – If you have a specific color in mind that's not readily available, our shop can mix and match paint to achieve your desired color, ensuring a truly unique look.
If you're considering a custom paint job in North Hollywood, look no further than our team at In-N-Out Collision Center. Consulting with our team of experienced professionals can discuss your ideas, provide recommendations, and execute your paint job with precision. The possibilities are almost endless. Contact us here for a free estimate or stop by our shop today