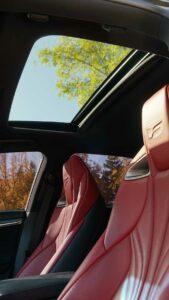 In-N-Out Collision Center repairs sunroofs and installs new ones for Los Angeles motorists. Our North Hollywood body shop offers a quick and free consultation and estimate for any sunroof or moonroof project in the Los Angeles area. You don't need an appointment to stop in, but you can also contact us to discuss any problem with your sunroof.
Sunroof Services in Los Angeles
Sunroofs allow Los Angeles drivers another way to enjoy the California sunshine and ocean air. It's quite a thrill to open up the roof while cruising on a famous street like Ventura Boulevard.
But sunroofs can wear out, fade, and take damage in accidents. They can stop repelling water and even allow a flood inside your vehicle.
In-N-Out Collision Center takes care of leaky sunroofs and broken glass. We can repair original and after-market sunroofs. These are just a few of the projects we can help you with:
We fix sunroofs that aren't water or airtight
We replace seals and gaskets
We replace glass in sunroofs and moonroofs
We make sure sunroofs open and close properly
We repair the parts that make power sunroofs work
We make roof repairs so sunroofs work again
We repair upholstery that's damaged when a sunroof leaks
We install new roofs, sunroofs, and moonroofs
We specialize in repairs and restoration to your entire vehicle after a car crash has left it shattered. That includes restoring your sunroof.
The Advantage of Trusting Your Car's Sunroof to In-N-Out Collision Center
In-N-Out Collision Center is proud of our 25 years of service to our Hollywood and Los Angeles customers. Our fully-trained technicians use their skills and experience to make sure your car's sunroof is working again and adding to the value of your vehicle.
We also offer affordable prices with no hidden fees. You'll know what you're paying for before you hand over your keys. We also offer free car rentals for longer projects.
We want our clients happy with the look of their cars, SUVs, and Trucks. Your vehicle doesn't pass inspection until your sunroof looks and works the way you want it to.
In-N-Out Los Angeles Sunroof Repairs
To go over your options for repairing or replacing the sunroof, stop in anytime for a quick consultation. In-N-Out Collision Center is located in North Hollywood at 11724 Victory Blvd. Our repair estimates take around 10-20 minutes on average. You can also get a quick online estimate by uploading photos and your contact information.
Please contact us and let us know how we can get your sunroof working again. We also handle fiberglass repair, body painting, upholstery repair and so much more. Reach out to us for any body repair project, big or small.